---
The way I see it, there are two kinds of people in this car filled world.
The people who keep their car spotless or semi clutter free and those who keep their car in shambles. I for one can't stand anything being in my car; there's nothing lying around on my backseat or rolling around in my trunk. (I know, you're asking what about the Winter Emergency Kit I wrote about. I'm working on it.) I know a great deal of people who have messy cars; I would go out of my way to not have to ride in their car. In order to prevent being 'that person,' follow these steps to fix your clutter without much effort.
---
1. Clean Up
Box things up - Grabbing a spare brown box at your local grocery store will come in handy while preventing the spillage of groceries in the back seat or holding your dirty baseball equiptment. I swipe a box at Aldi everytime I shop; My groceries stay put during my long drive home.
Plastic cereal dispencer - Recycle a cereal dispencer and turn it into a portable trash can. The closable lid will keep the trash locked away.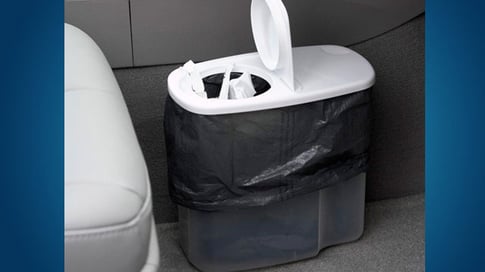 lifehacker.com
2. Organize
Shower caddy - Recycle a shower caddy to stash away the little things. Instead of having that pesky perfume or cologne rolling around your floor boards, place it in the caddy. Easy access to the things you need will making being organized that much better. The caddy will eliminate clutter and bring all of your items together in one handy device.
Coupon organizer & Plastic folders - As every car owner knows, you need to keep important information in your vehicle at all times. Paperwork such as your vehicle registration or the latest maintenance repair report. Having the paperwork organized may allow you to save money when selling the car, due to the fact that you can prove you took care of the vehicle.
---
It's a good idea to keep the inside of your car clean and organized, just as you would the outside. Go ahead and clean the inside and outside of your car every month or so. Don't take the job too seriously, have a little fun when washing your car!
---
Our goal is to keep you up to date on the latest automotive industry news. Be sure to check out True Auto Vehicle Breakdown Protection on Facebook, Twitter, LinkedIn and Google+ for more valuable vehicle information. If you have questions about how we can protect you and your vehicle with an extended warranty, please call 1-877-397-1022 or click HERE.