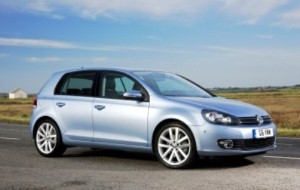 The Duchess of Cambridge's 2001 Volkswagen Golf will go up for auction on eBay.com tomorrow, and is expected to sell for at least twice what it initially cost. Kate Middleton bought the German car new around the time she started dating Prince William, and gave it to her brother in 2007 when the couple split briefly, according to The Daily Mail.
The Middleton family sold the car in 2009 to Sonny Brazil, with roughly 60,000 miles on the odometer, for only about £1,400 ($2,300). Brazil only drove an additional 2,500 miles on the sedan before he brought it to an auction house, where he learned that the Duchess's name on the log book could bring in roughly £30,000 ($48,400). Whoever purchases this vehicle should also consider buying an extended warranty to protect the notable vehicle in case of any damages.
The used car retails for approximately $4,000 to $6,000 without a famous previous owner, according to Edmunds.com. So, interested parties can purchase their own version of the car Kate owned while she was being courted by Prince William, and a vehicle warranty can help maintain the German car.