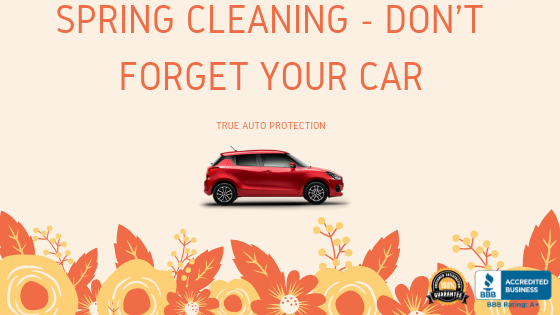 Have you ever stopped to think what effects winter has on your car? Winter exposes your vehicle to problems ranging from wear and tear, a shift in wheel alignment; build up of sludge, dirt and moisture in engine air filter, etc. However, spring cleaning deals with most of these problems so, when spring cleaning, don't forget your car!
Spring cleaning is the thorough cleaning of your house during the spring season. The cleanup is not a preserve of those in snowy regions, and it makes your vehicle's maintenance cheap while at the same time offering safer rides. Here are simple car cleaning tasks.
Tips for Spring Cleaning your Car
1. Check Fluid Levels
Your vehicle's life depends on the fluids. Therefore, check the fluid levels to see if there is a need for replacement or top up. Your car system has the following fluids, brake fluid, engine oil, power steering, washer fluid and the cooling system. Look out for any threats whose evidence are stainings in your car park or on the driveway and act appropriately. Consequently, Replace the depleted fluids with high-quality ones for the enhanced and efficient performance of your car.
2. Add Coolant
Coolant helps reduce the engine temperature to acceptable levels while preventing leakages since it acts as a sealant. Overheating of the engine is the primary course of avoidable vehicle breakdowns. You can avoid the failure by either replacing your old antifreeze or taking the expensive alternative of engine repair. Nevertheless, adding coolant during the spring cleaning will spare you much trouble.
3. Wash the Car's Exterior
Your vehicle has a buildup of dust, mud and salt on the exterior of your car. Use a car wash first after which you can wax it using either spray or liquid wax. Not only will the wax add shine to your car's exterior but also it will increase the firmness of the paint. While at it, don't forget to wash mirrors and the headlights. Revamp the appearance of your vehicle by spring washing.
4. Clean the Inside
Driving in a not-so-clean car in the chilly winter is forgivable. However, with the brightening up of the weather, you should clean all the crumbs, debris, dry salt, trash, and all the dirt that has collected in the different compartments. Check under the floor mats, and seats it's unsightly too.
Vacuum clean all the areas then proceed to organize everything in the inside of your car. When it comes to seats cleaning, use a wet cloth since chemicals will eat away your nice seats.
5. Replace the Winter Tires
Remember to replace the winter tires with the normal ones which are properly inflated to avoid wear and tear and blow-outs. Also, inflate your spare tires too.
If planning for spring cleaning, don't forget your car. During the cleaning make sure to change fluids, vacuum clean the inside of the car, wax the exterior and fill up the coolant.