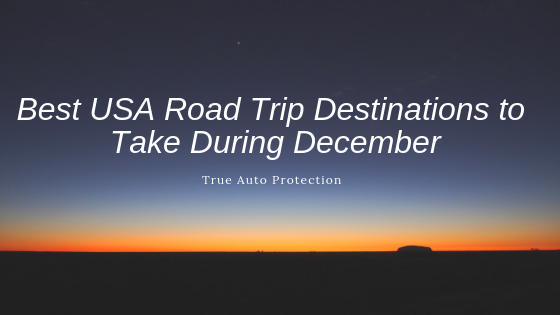 The winter season is the perfect time to take a road trip with friends or family and explore new areas in the country. Whether you desire to travel to a destination with warmer weather or you are interested in sight-seeing, the United States offers a wide range of options that guarantee a fun-filled road trip that will create lasting memories.
Here is a list of the top five road trip destinations in December for anyone traveling in the United States.
#1 Southern California
Traveling throughout Southern California provides a perfect opportunity to experience breathtaking views along the Pacific Coast Highway for anyone that needs a break from winter weather. Driving from San Francisco to San Diego gives you the freedom to experience a variety of destinations, whether you desire to spend a day out on the beach or visit the world-famous San Diego Zoo. The temperature in southern California is nearly always perfect in December and is a fantastic road trip destination in December.
#2 Florida Keys
The Florida Keys is a great choice for anyone that wants to escape the chill of winter, while also enjoying a wide variety of outdoor activities. The Florida Keys offer some of the most beautiful beaches in the country, and it is an excellent option for a December road trip. The scenic drive of Route 1 on the east coast of Florida is a favorite choice for many travelers, as it is an ideal excursion for anyone looking for an end of the year road trip.
#3 New Mexico
New Mexico is a top winter destination that offers a wide range of choices, whether you wish to travel along U.S. 84 to view the scenic Southwest or if you prefer to visit Wolf Creek Ski area for a skiing trip that the entire family can enjoy. You can also visit Pagosa Springs and relax in the thermal baths for a truly one of a kind December road trip adventure that will create countless memories.
#4 Lake Tahoe, Nevada
The Lake Tahoe National Scenic Byway offers a fantastic 28-mile journey that gives breathtaking views in December. Lake Tahoe is an excellent choice for anyone that enjoys the outdoors, as it provides plenty of opportunities for ice skating, skiing, and sledding. You can also visit Lake Tahoe Nevada State Park and hike on scenic trails with a view of the Sierra Nevada Mountains.
#5 Big Bend National Park - Texas
Big Bend National Park is a wonderful road trip destination for anyone that desires to get away and experience the beautiful landscape of Southwest Texas. The temperature is always pleasant in December, as you have a choice to hike on countless trials and view a wide variety of wildlife. You can also travel along the Ross Maxwell Scenic Drive to see limestone cliffs and view the beauty of the desert in December.
All of these scenic locations are a fantastic choice for anyone that desires to go on a December road trip in the United States.