---
For anyone who needs to buy new tires, the common question typically comes down to: winter tires vs all season tires.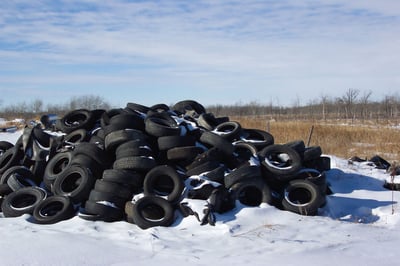 Which one is right and is there a better one than the other? Why should someone go with winter tires if the all season tires are for all season? Ultimately, there are some key variations between the two tires, so understanding the difference is important; Knowing a bit about each style is a must.
(Picture:All-free-download.com)
---
All Season Tires
All season tires offer the best fuel economy of the two while also providing excellent tread life. The main perk with all season is the versatility with the tire. Although not dubbed "winter" it can handle snow as the tread is thicker than what a driver might find on summer tires.
Essentially, all season tires are a hybrid between summer and winter tires. As a hybrid though, it does have some downfall.
It doesn't have the same kind of grip as a summer tire.
It also doesn't have the thicker tread as a winter tire, which is important when driving through the snow and ice.
Winter Tires
Winter tires are designed specifically to handle not only the snow and ice, but also the cold. Winter driving conditions are some of the most unpredictable with the drop in temperature and ice accumulation.
The rubber on a winter tire remains flexible. Allowing the tire to remain gripped to the surface, even in icy conditions. All weather tires become stiff and rigid, which not only reduces traction but it also causes the tire to crack more frequently during this time of the year.
Winter tires have deeper treads and unique patters to help reduce snow buildup and push the snow out of the thread. For snow conditions, winter tires are essential.
---
When you own a vehicle, there are many different things that you need to take care of in order for you to get the most use and enjoyment out of that vehicle. Whether it's new tires or things like regular maintenance and oil changes, keeping your vehicle in prime condition is important. Investing in an extended warranty will provide you with the extra coverage you want in order to keep your family safe.
If you are looking for a company that specializes in Automobile Extended Warranties, look no further than True Auto Vehicle Breakdown Protection. Coverage plans will protect your new, used and new-to-you used vehicle. Call 877-397-1022 or Click HERE to recieve your FREE Quote today.